Our programs
Discovery
Preclinical
Phase 1
Phase 2
Phase 3

Preclinical


Solid tumors

>50K/year U.S. (Metastatic CRC)
>28K/year U.S. (Metastatic pancreatic cancer)
>4K/year U.S. (Metastatic cholangiocarcinoma)
LYT-210 is an investigational, fully human IgG1 monoclonal antibody (mAb) directed against the delta-1 (γδ1) chain of T cells bearing γδ1 T cell receptors (TCRs) for antibody dependent cell-mediated cytotoxicity and antibody-dependent cellular phagocytosis (ADCP).
| | | | |
| --- | --- | --- | --- |
| | Phase completed | | Phase in progress |
---
This figure illustrates the impact of protumorigenic γδ1 T cells on tumor progression
---
Immunosuppressive γδ1 T cells
Solid tumors harbor immunosuppressive γδ1 T cells that correlate with tumor aggressiveness/lower rate survival

Works through multiple pathways to cause immunosuppression in the tumor micro‑environment

LYT-210 is a fully human monoclonal lgG1 antibody (cross reacts with monkey)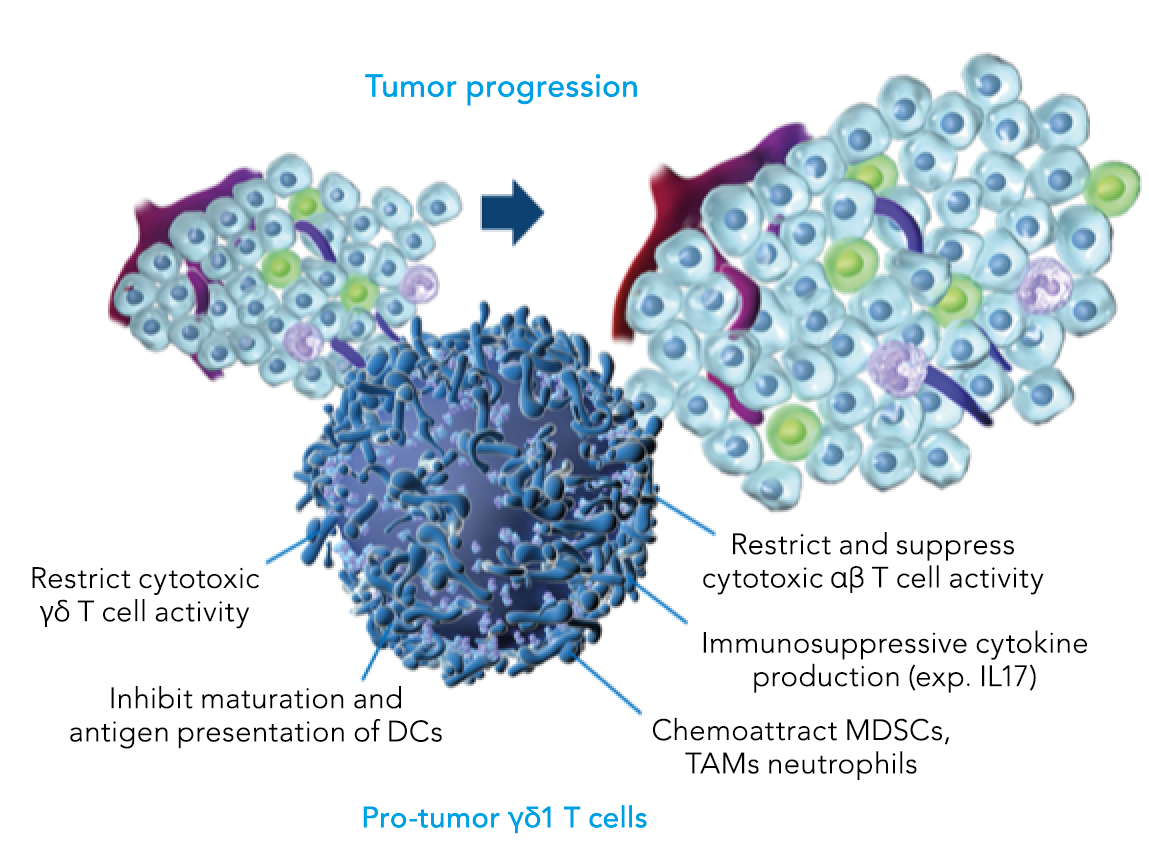 ---
Image adapted from CellPress: REVIEW: γδ T cells: Unexpected Regulators of Cancer Development and Progression.
DC = dendritic cell; TAM = tumor associated macrophage; MDSC = myeloid derived suppressor cell; IL17 = interleukin 17
---
As shown in the below figure on the left, when mice with pancreatic cancer were treated with an antibody against immunosuppressive γδ T cells, which is represented by the dark blue curve, survival was greatly increased. The below figure in the middle illustrates examples of in vitro T cell activation with antibodies against γδ T cells.
Single agent activity in KPC (pancreatic cancer) model (Published in Cell)
---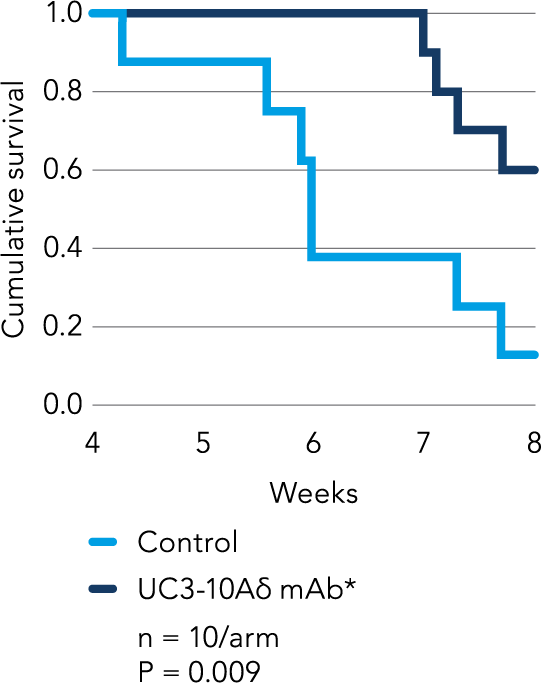 T cell activation with an anti-δ1 mAb in patient-derived organoid model
---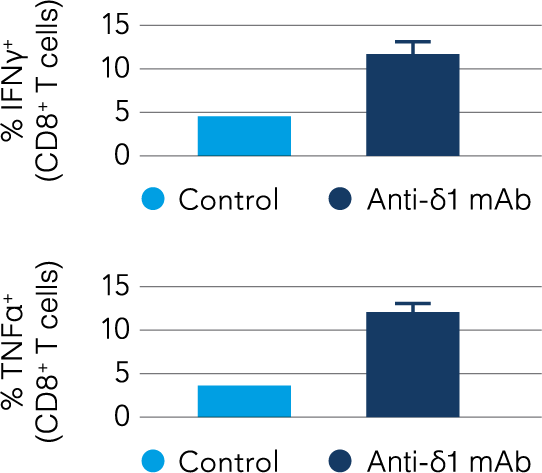 LYT-210 candidate clone has excellent drug properties
---
High affinity and specificity/selectivity for 

pathogenic γδ1 T cells

Species cross reactivity to enable IND tox

Desired function: Inducing ADCC/ADCP 

and activating suppressed effector T cells 

in patient-derived tumor models

Proof of principle in animal models:

Targeting immunosuppressive γδ T cells significantly prolongs survival in a KPC model
Targeting immunosuppressive γδ T cells synergizes with checkpoint inhibitors in melanoma and lung cancer models
---
---
Cell. 2016 Sep 8;166(6):1485-1499; *Tool antibody that blocks mouse immunosuppressive γδ T cells
Note: For patient-derived organoids: Analyzed n = 22 tumor samples; success defined as: >20% upregulation of at least two out of three T cell activation markers; Success achieved in 63% of tumors with majority showing >2-fold activation