Puretech Ownership
Product Candidate
Initial Indication(s)
Stage of Development
21.0% Equity plus Royalties
FDA Cleared,
European CE Mark Granted
Adolescent weight management
Phase 2 Ready6
Weight management in type 2 diabetes (T2D)/prediabetes
Phase 2
Non-alcoholic steatohepatitis/Non-alcoholic fatty liver disease
Phase 2 Ready6
4. These product candidates are regulated as devices and their development has been approximately equated to phases of clinical development.
5. Products are investigational and have not been cleared by the FDA for use in the United States.
6. Contingent on FDA review of the research plan.
Plenity®, FDA-cleared and approved to market in Europe 
Gelesis is developing oral therapeutics based on a novel, superabsorbent hydrogel technology platform to treat excess weight and other chronic diseases related to the gastrointestinal (GI) pathway. Gelesis' proprietary approach is designed to act mechanically in the GI pathway to potentially alter the course of chronic diseases. 
Gelesis is progressing a global commercialization strategy for its first product, Plenity, to broaden global access to a weight loss option. Gelesis plans to bring Plenity to the U.S. first, where it is now available by prescription to a limited extent while the company ramps up its commercial operations and inventory for a full launch in 2021. 
In April 2019, Gelesis received clearance from the United States Food and Drug Administration (FDA) for its first product, Plenity (Gelesis100), an aid for weight management in adults with a body mass index (BMI) of 25-40 kg/m2, when used in conjunction with diet and exercise. 
Gelesis announced a partnership with Ro, a leading U.S. telehealth provider, in December 2019. Through the Gelesis-Ro partnership, Plenity will be the first FDA-cleared weight management aid and first primary care product to launch with both traditional healthcare provider and telehealth services, making Plenity available to patients nationwide. Gelesis also initiated a Plenity early experience program in the U.S. in the second half of 2019. 
Gelesis was granted a Conformité Européenne (CE) mark for Plenity as a class III medical device in June 2020. The CE Mark will enable Gelesis to market Plenity throughout the European Economic Area and in other countries that recognize the CE mark. 
Gelesis announced a partnership with China Medical System Holdings Ltd. for the commercialization of Plenity in China in June 2020.
For more information, visit www.myplenity.com.
GLOW Clinical Study Details
The Gelesis Loss of Weight (GLOW) study was a 24-week, multicenter, randomized, double-blind, placebo-controlled pivotal trial assessing the safety and efficacy of Plenity. Plenity was administered to 436 overweight and obese adults, with or without type 2 diabetes. Adults were randomized to 2.25 g of Plenity or placebo and were prescribed reduced caloric intake and exercise. The two co-primary endpoints calculated from baseline to month 6 were: 1) ≥35% of individuals taking Plenity achieving  ≥5% weight loss (categorical endpoint), and 2) a placebo-adjusted weight loss assessed in two ways: superiority margin of 3% and simple superiority over placebo. The study met and exceeded the categorical endpoint (59% achieved ≥5% weight loss). It did not achieve super-superiority; however it did achieve superiority over placebo  (-6.4% vs -4.4%, P=0.0007). Individuals taking Plenity had twice the odds of achieving ≥5% weight loss vs placebo (adjusted odds ratio [OR] was 2.0 [P=0.0008]).
Important Safety Information
Plenity is contraindicated in patients who are pregnant or are allergic to cellulose, citric acid, sodium stearyl fumarate, gelatin, or titanium dioxide.

Plenity may alter the absorption of medications. Read Sections 6 and 8.3 of the Instructions for Use carefully.

Avoid use in patients with the following conditions: esophageal anatomic anomalies, including webs, diverticuli, and rings; suspected strictures (such as patients with Crohn's disease); or complications from prior gastrointestinal (GI) surgery that could affect GI transit and motility.

Use with caution in patients with active GI conditions such as gastro-esophageal reflux disease (GERD), ulcers or heartburn.

The overall incidence of adverse events (AEs) in the Plenity group was no different than the placebo group.
The most common side effects were diarrhea, distended abdomen, infrequent bowel movements, and flatulence.
For the safe and proper use of Plenity, refer to U.S. Instructions for Use or the EU Instructions for Use.
Gelesis received FDA clearance for Plenity® as an aid for weight management in adults with a BMI of 25-40 kg/m2 when used in conjunction with diet and exercise
---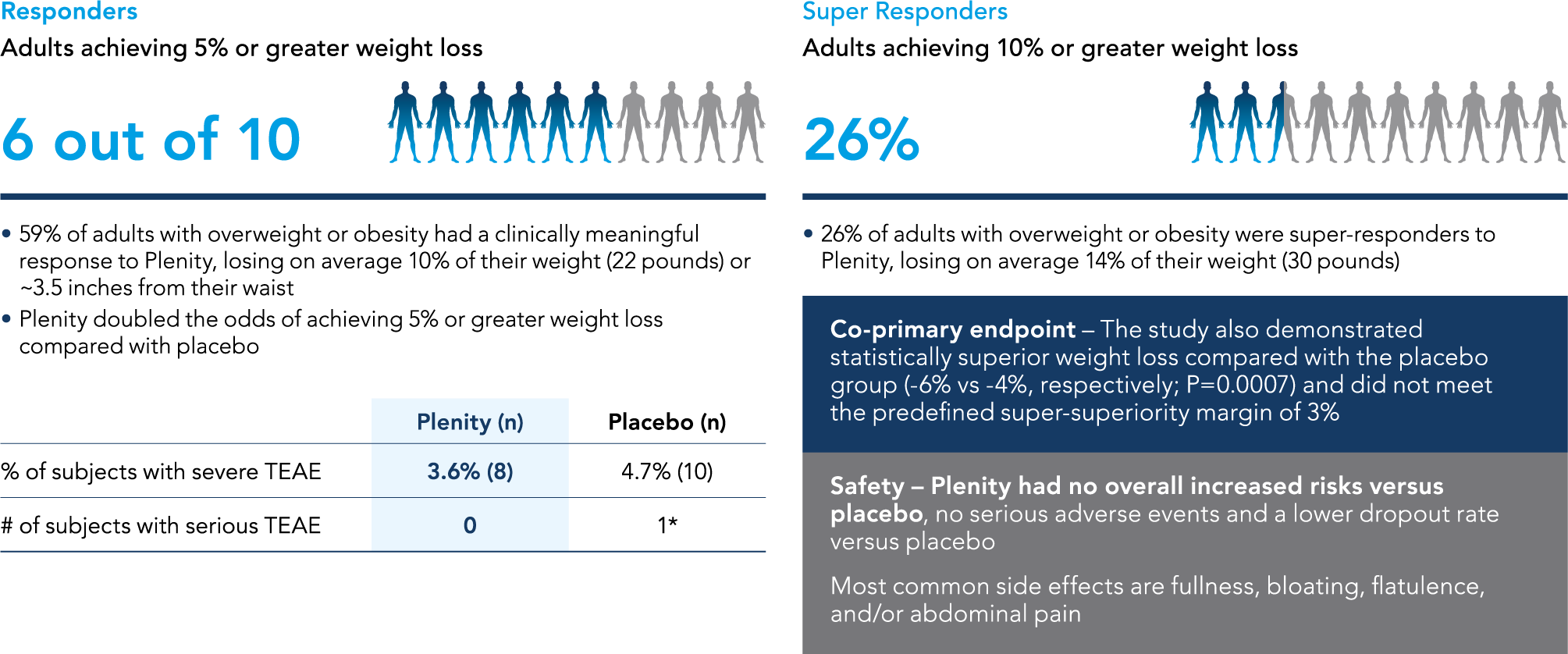 The Difference
---
---
The Benefits
---
---
Press Releases
---
September 4, 2020
---
June 18, 2020
---
June 2, 2020
---
March 11, 2020
---
December 17, 2019
---
December 9, 2019
November 5, 2019
---
May 20, 2019
---
April 25, 2019
April 14, 2019
---
March 25, 2019
---
March 25, 2019
---
March 21, 2019
---
November 13, 2018
---
November 5, 2018