Puretech Ownership1
Therapeutic Candidate2
Initial Indication(s)
Stage of Development
19.2% Equity plus Royalties
Adolescent weight management
Preclinical4
Weight management in type 2 diabetes (T2D)/prediabetes
Phase 2
Non-alcoholic steatohepatitis/Non-alcoholic fatty liver disease
Phase 2 Ready4
1 As of June 30, 2021, PureTech's percentage ownership of Gelesis was approximately 19.2 percent on a diluted basis. This calculation includes issued and outstanding shares, options, and warrants, but excludes unallocated shares authorized to be issued pursuant to equity incentive plans. PureTech has a right to royalty payments as a percentage of net sales from Gelesis.
2 These therapeutic candidates are regulated as devices and their development has been approximately equated to phases of clinical development. With the exception of Plenity, candidates are investigational and have not been cleared by the FDA for use in the United States.
4 Contingent on FDA review of the research plan.
Plenity®, FDA-cleared and approved to market in Europe 
Gelesis is developing a novel category of therapies for obesity and GI-related chronic diseases. Given challenges associated with pharmacological and invasive surgical treatments for obesity, Gelesis designed an approach with an oral, non-invasive, non-systemic mechanism of action and a highly favorable safety and efficacy profile.
Gelesis is progressing a global commercialization strategy for its first product, Plenity, to broaden global access to a weight loss option. Gelesis plans to bring Plenity to the U.S. first, where it has been available to a limited extent since the second half of 2019 through an early experience program and since 2020 via a beta launch while the company ramps up its commercial operations and inventory for a broader launch in the second half of 2021. 
Gelesis received clearance from the FDA to market and sell its lead product Plenity to aid in weight management in adults with excess weight or obesity, Body Mass Index (BMI) of 25-40 kg/m2, when used in conjunction with diet and exercise. Plenity is FDA-cleared for the largest number of adults struggling with overweight and obesity of any prescription weight-management aid and the only prescription weight management product to be cleared for use by overweight adults with a BMI as low as 25 kg/m2, with or without comorbidities. Nearly 150 million adults with excess weight in the United States fall within the BMI range included in the Plenity label.
In June 2020, Gelesis also received a Conformité Européenne (CE) Mark for Plenity as a class III medical device indicated for weight loss in overweight and obese adults with a BMI of 25-40 kg/m2, when used in conjunction with diet and exercise. Gelesis will now be able to market Plenity throughout the European Economic Area and in other countries that recognize the CE Mark. 
Gelesis has a partnership with Ro, a leading U.S. telehealth provider, to support the U.S. commercialization of Plenity. Gelesis also has a partnership with China Medical System Holdings Ltd. (CMS), for the commercialization of Plenity in China, which was announced in June 2020. Pursuant to the terms of the deal, CMS provided $35 million upfront in a combination of licensing fees and equity investment, with the potential for an additional $388 million in future milestone payments as well as royalties.
For more information, visit www.myplenity.com.
GLOW Clinical Study Details
The Gelesis Loss of Weight (GLOW) study was a multicenter, double-blind, placebo-controlled pivotal study designed to assess change in body weight in 436 adults with overweight or obesity (BMI ≥ 27 and ≥ 40 kg/m2) after six months of treatment. The study had two predefined co-primary endpoints: at least 35 percent of patients taking Plenity achieving more than five percent weight loss (categorical endpoint) and placebo-adjusted weight loss with a super-superiority margin of three percent. In addition, a prespecified analysis of simple superiority was also performed. The study met and exceeded the predefined categorical endpoint, with 59 percent of adults in the treatment group achieving weight loss of five percent or greater and losing on average 10 percent of their weight (22 pounds) and 3.5 inches from their waists within six months. The study did not meet the three percent super-superiority endpoint but demonstrated superiority of the Plenity treatment over the placebo group (–6.4 percent vs. –4.4 percent, P=0.0007). Plenity-treated individuals had twice the odds of achieving at least five percent weight loss as compared to placebo (adjusted odds ratio: 2.0, P=0.0008).
3Important Safety Information
Patients who are pregnant or are allergic to cellulose, citric acid, sodium stearyl fumarate, gelatin, or titanium dioxide should not take Plenity.
To avoid impact on the absorption of medications:

For all medications that should be taken with food, take them after starting a meal.
For all medications that should be taken without food (on an empty stomach), continue taking on an empty stomach or as recommended by your physician.

The overall incidence of side effects with Plenity was no different than placebo. The most common side effects were diarrhea, distended abdomen, infrequent bowel movements, and flatulence.
Contact a doctor right away if problems occur. If you have a severe allergic reaction, severe stomach pain, or severe diarrhea, stop using Plenity until you can speak to your doctor.
Rx Only. For the safe and proper use of Plenity or more information, talk to a healthcare professional, read the Patient Instructions for Use, or call 1-844-PLENITY.
Note: Gelesis' completed and ongoing studies have been approved by the applicable reviewing Institutional Review Boards (IRBs) as nonsignificant risk device studies. Gelesis also has ongoing discovery efforts to expand its pipeline. Our board designees represent a minority of the members of the board of directors of Gelesis, and we do not control the clinical or regulatory development or commercialization of Gelesis' therapeutics and therapeutic candidates. We have an interest in Gelesis' therapeutic candidates through our minority equity investment as well as our right to royalty payments as a percentage of net sales pursuant to a license agreement between us and Gelesis. Gelesis is well protected with a robust intellectual property portfolio. Gelesis was incorporated in February 2006.
---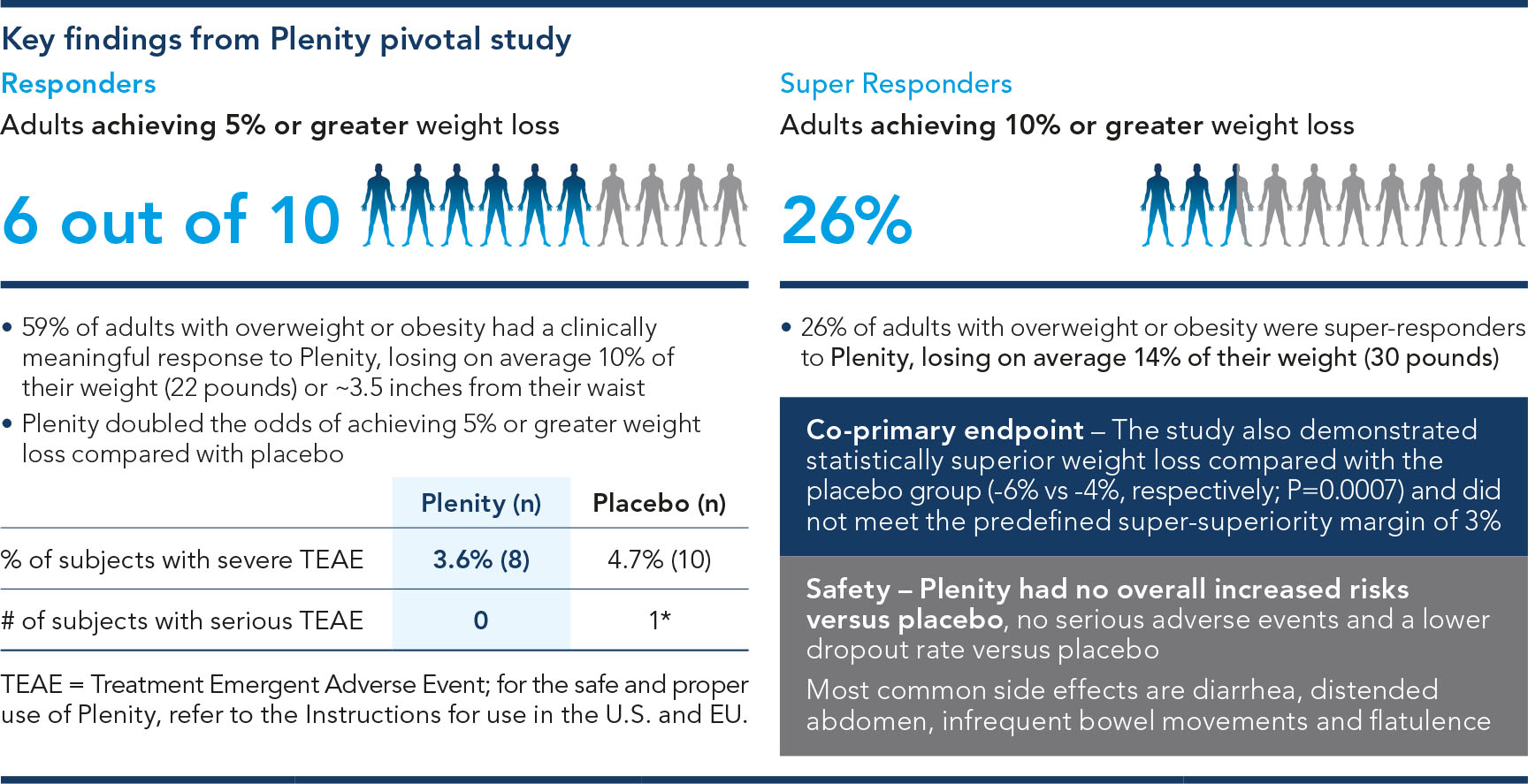 ---
Press Releases
---
July 19, 2021
---
May 27, 2021
---
April 26, 2021
---
November 13, 2020
---
September 4, 2020
---
June 18, 2020
---
June 2, 2020
---
March 11, 2020
---
December 17, 2019
---
December 9, 2019
---
November 5, 2019
---
May 20, 2019
---
April 25, 2019
---
April 14, 2019
---
March 25, 2019
---
March 25, 2019
---
March 21, 2019
---
November 13, 2018
---
November 5, 2018