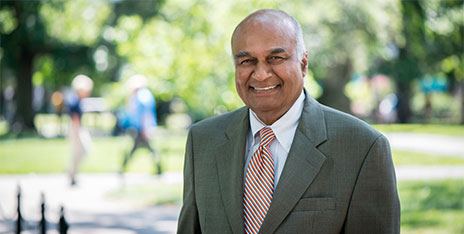 Position:

Independent Non-Executive Director, R&D Committee Member
Raju Kucherlapati, PhD, has served as a member of the board of directors at PureTech since 2014. He is the Paul C. Cabot Professor of Genetics and Professor of Medicine at Harvard Medical School, is an independent non-executive director at PureTech and sits on PureTech's R&D Committee. Dr. Kucherlapati currently serves on the board of directors of Gelesis, Inc. and KEW Inc. He was a founder and formerly a board member of Abgenix (acquired by Amgen for $2.2 billion), Cell Genesys and Millennium Pharmaceuticals (acquired by Takeda for $8.8 billion). He was the first scientific director of the Harvard-Partners Center for Genetics and Genomics. He is a fellow of the American Association for the Advancement of Science and a member of the National Academy of Medicine. Dr. Kucherlapati received his PhD from the University of Illinois. He trained at Yale and has held faculty positions at Princeton University, University of Illinois College of Medicine and the Albert Einstein College of Medicine. He was a member of the presidential commission for the study of bioethical issues during the Obama administration.

Dr. Kucherlapati's laboratory at Harvard Medical School is involved in cloning many human disease genes with a focus on human syndromes with significant cardiovascular involvement, use of genetic/genomic approaches to understand the biology of cancer and the generation and characterization of genetically modified mouse models for cancer and other human disorders. His laboratory was a part of the Human Genome Program that was responsible for mapping and sequencing the human genome. Dr. Kucherlapati developed methods for modifying mammalian genes that lead to gene targeting in mice. He has developed many mouse models for human disease, including a large set of models for human colorectal cancer. His laboratory was a part of The Cancer Genome Atlas (TCGA) program that uses genetic/genomic approaches to understand the biology of cancer. He is a promoter of personalized/precision medicine. Dr. Kucherlapati served on the editorial board of the New England Journal of Medicine and was editor-in-chief of the journal Genomics.